About Us
---
About Us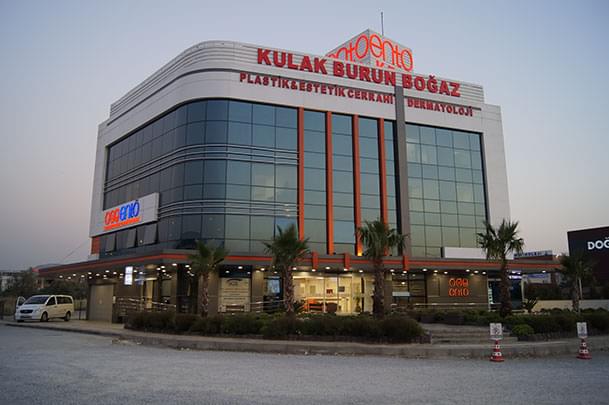 Established in 2001 in İzmir, ENTO ENT Medical Center has been offering quality and high tech health services to its patients thanks to its expert and experiences physicians as well as its health personnel that value human health. Having a smart automation system on an area of 2000 m2, ENTO ENT Medical Center is defined as an A Type Medical Center by the Ministry of Health thanks to its sleeping laboratories, surgery rooms, VIP observation rooms, audiometry laboratories and many polyclinics.
Our mission is to offer you the fastest, the most economical and quality health services that comply with the world standards while considering your expectations and needs.
Our vision is to provide our patients the recent advancements in the developing medicine, with the value we give to the human health, to become useful to the society and provide you the precedent, sustainable, accessible and quality health services in different branches.
Our Quality Policy
To prioritize our customers' expectations and satisfaction. To offer reliable health services in terms of diagnosis and treatment through our expert physicians and health personnel that subscribe to the advancements.
To create a social awareness by informing both our colleagues and patients through our educational and scientific works.
To ensure the health, satisfaction and comfort of our patients through our kind and solution oriented colleagues as well as our high tech devices and qualified units.
Esthetic Therapy / Surgery
Otorhinolaryngology
Medical Aesthetics
Reconstructive Plastic Surgery
Hair Transplantation
Hair Transplant
botox
,
Nose Deformity
,
Nose Esthetic Cosmetic Surgery
,
Nose Blockage
,
Snoring
,
Nasal Polyps
,
Rhinoplasty
,
Robotic Surgery
,
hair implant
,
Hair transplantation
,
Sinusitis
,
Sialendoscopy
,
salivary stones or sialoliths
,
Ultherapy
,
Sleep Apnea
,
Face Esthetic Surgery
,
Facial Plastic Surgery
,
Acute Otitis
,
allergic rhinitis, Hay fever
,
Sudden hearing loss
,
Tonsillitis
,
Baloon Sinuplasty
,
Head and Neck Tumor Surgery
,
Vertigo
,
Bell's Palsy
,
Computer-aided Sinus Surgery
,
throat pain
,
Botulinum Toxin Injections
,
Branchial cleft cyst
,
Nose Deformity
,
Nose Esthetic Cosmetic Surgery
,
nosebleed
,
Nasal Fracture
,
Nose Blockage
,
Nasal Obstruction Surgery
,
Nasal foreign body
,
Mentoplasty
,
Surgical Navigation
,
Head and Neck Masses in Children
,
Hearing Loss in Children
,
Cogan syndrome
,
balance disorder
,
Otitis externa
,
Filler Injections
,
Closed (endoscopic) Surgery
,
Endoscopic Lacrimal Sac Surgery
,
Endoscopic Surgery Adenoids
,
Endoscopic Sinus Surgery
,
Epiglottitis
,
Epistaxis
,
pharyngitis
,
adenoid
,
Modern approaches to the use of current technology
,
Hashimoto's thyroiditis
,
Snoring
,
Horner Syndrome
,
Inner ear infection
,
Hearing Loss
,
Rhinolight
,
Cranio Maxillofacial Surgery
,
Cancer and Neck Surgery
,
Diagnosis and Treatment for Ear-Nose-Throat Diseases
,
Concha Hypertrophy
,
Chronic Otitis
,
Otalgia
,
Tinnitus
,
Laser Treatment of Tinnitus
,
Microsurgery of ear disease
,
Auricle
,
Eardrum and Middle Ear Surgery
,
otic foreign body
,
Larenjit
,
Laryngology
,
Laryngocele
,
Laryngectomy
,
Larynx Cancer
,
Lateral sinus thrombosis
,
Ludwig angina
,
Mastoiditis
,
Meniere disease
,
migraine
,
Nasal Polyps
,
Neurootology
,
Otitis media
,
otititis
,
Eustachian Tube
,
Otology
,
Otology-Neurootology
,
Otoplasty
,
Otosclerosis
,
Parotitis
,
Peritonsillar Abscess
,
Piezoelectric ( Ultrasonic ) Surgery
,
PRP Treatment
,
Pseudotumor Cerebri
,
Ramsey Hunt syndrome
,
Retropharyngeal abscess
,
Rhinology (nose) Disease and Advanced Sinus Surgeons
,
Rhinology and Allergy
,
Rhinoplasty
,
Robotic Surgery
,
Septal hematoma
,
Nasal septum deviation
,
Cerumen
,
Aesthetic Voice Surgery
,
Hoarseness
,
Silhouette Suture Technology and Face Lifting
,
Sinusitis
,
Sinusitis
,
Sialendoscopy
,
Stomatology and Oropharynx
,
Tympanoplasty
,
Tyroglossal duct cyst
,
Tracheostomy
,
Traumatic asphyxia
,
Sialolithiasis
,
salivary stones or sialoliths
,
Salivary Gland Diseases
,
Ultherapy
,
Sleep Apnea
,
Vestibular System Diseases
,
Facial Aesthetics
,
Facial Paralysis
,
Facial Bone Fractures
,
Facial Plastic Surgery
,
Face Trauma
,
Swimmer's ear
,
botox
,
plastic surgeon
,
hair implant
,
Hair transplantation
,
botox
,
Nose Deformity
,
Nose Esthetic Cosmetic Surgery
,
Nose Blockage
,
Mentoplasty
,
Surgical Navigation
,
Epistaxis
,
Snoring
,
Cranio Maxillofacial Surgery
,
Auricle
,
Nasal Polyps
,
plastic surgeon
,
PRP Treatment
,
Rhinoplasty
,
Robotic Surgery
,
hair implant
,
Hair transplantation
,
Nasal septum deviation
,
Sinusitis
,
Sialendoscopy
,
salivary stones or sialoliths
,
Ultherapy
,
Sleep Apnea
,
Facial Aesthetics
,
Face Esthetic Surgery
,
Facial Plastic Surgery
,
PRP Treatment
,
plastic surgeon
,
PRP Treatment
,